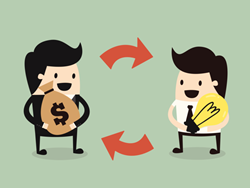 Seattle, WA (PRWEB) May 14, 2015
Marketing has changed a lot over the past few years. Because of dramatic shifts in the way customers find information and choose who they buy from, marketing and sales teams have been forced to revamp their work methods in order to meet the needs and desires of their potential customers.
For businesses to continue to successfully close leads, they must know how to coordinate their marketing and sales efforts to attract and close the greatest number of customers. Fannits latest article tackles this topic and gives both teams clear instructions on how to work together.
Fannit begins the article by describing the term handshake. The article states that, Simply put, the sales and marketing handshake (or alignment) is the idea that both departments work together in such a way that they improve and maximize the lead (customer) acquisition process.
What are ways that these two departments can work together? The article goes on to first suggest ways that the marketing team can support their sales team. Fannit takes an in-depth look at why marketing teams should have a firm grasp of the buyers journey and how this information can benefit the work of the sales team.
Fannit then addresses how sales teams can enhance the efforts of their marketing teams. Without communication, marketing teams cannot know which leads are the highest quality for sales to work with. The article discusses how coordination between these teams can result in more high-quality leads that both teams can work to close and delight.
Fannit is an inbound marketing agency that helps businesses to create a tailored marketing strategy that enhances their inbound marketing and generates more leads. To learn more about Fannits services and resources, visit their website at http://www.fannit.com/inbound-marketing/.
About Fannit

Fannit.com is a full service internet marketing agency that helps companies increase their online presence through engaging and well placed content. They service Seattle area and U.S. based companies for content development, SEO, PPC, E-mail, Press Release, and Website Funnel Optimization.

Fannit

2911 Hewitt Ave

Everett WA 98201

425-359-7989
Related SEO Press Releases