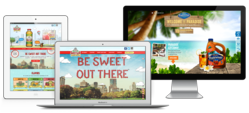 Austin, Texas (PRWEB) June 06, 2013
Sweet Leaf Tea Goes Responsive
With a quarter of website visitors coming from a mobile device and a growing social fan base, the Sweet Leaf Tea brand needed a site that gave users access to product information, store locations and engaging lifestyle content across all devices. The Sweet Leaf Team and Springbox worked together to build a completely redesigned, responsive website that reflects updated branding and will better engage customers. A WordPress content management system and other development techniques make the website flexible and easy to build upon as the brand continues to grow across new, key markets.
The homepage includes fun and engaging animations, a feed of user-generated content from their passionate social community, and a brief look at a compelling brand history. Each flavor has a dedicated page featuring flavor descriptions and shareable cocktail recipes while the new Find a Bottle feature enables fans to search for Sweet Leaf Tea anywhere in the USA while connecting with Google Maps.

See it live >
Fans Asked to Be Sweet Out There
To engage with their passionate social community, Springbox worked with partner agencies Ryan Partnership and Konnect PR to kick off a campaign that asks fans to spread the goodness of the brand through random acts of kindness, or #SweetActs. Launched in tandem with a May 17 event at the High Line in New York, a dedicated page on their new website showcases unique animations, exclusive content and social engagement opportunities. The page allows users and fans to share the Be Sweet Out There movement with their cities for chances to win prizes like festival tickets and branded swag. Giveaways are to be revealed on the Sweet Leaf Tea Facebook page throughout the summer.

Experience the movement >
Tradewinds Turns Summer into Paradise
As the slow-brewed tea that transports you to paradise, Tradewinds Tea partnered with Springbox and partner agencies Ryan Partnership and Konnect PR to kick off their summer season on May 31 with a Pop-Up Paradise. This unique event brought tons of sand and fun to the middle of downtown Chicago, while a digital campaign extends the experience all summer long. Springbox built a unique, responsive landing destination that not only transports fans to paradise, but also allows them to enter for a chance to win premium prizes and branded swag. Featuring engaging parallax elements and fun paradise content, Tradewinds welcomes fan to visit their paradise again and again. Giveaways and winners will be revealed on the Tradewinds Facebook page throughout the summer.

Enjoy a moment of Paradise with Tradewinds >
Jon Young, Senior Marketing Manager, stated, We are excited to kick off our summer campaigns with these unique digital experiences. Our growing number of Tradewinds and Sweet Leaf Tea fans now have the opportunity to further engage, discover and share across devices and platforms.
ABOUT SPRINGBOX

Springbox is a digital services agency that partners with brands to build interactive experiences that captivate customers and reach business goals. Combining strategic insights with big ideas, Springbox utilizes hard data to inspire creative works that put the user first and make a true human connection. A unique emphasis on responsible design, effective collaboration and exceptional results sets Springbox apart as a leader in the industry. Proudly representing high-caliber brands such as Dell, Nestle Waters, Nokia and PayPal, Springbox is a privately-owned company, with offices in Austin and Los Angeles. Learn more at http://www.springbox.com.
Related WordPress Press Releases