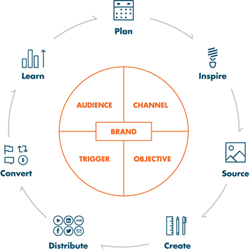 New York (PRWEB) September 04, 2014
Percolate and SocialCode today announced an exclusive partnership that creates the most comprehensive technology solution for campaign planning, content creation, closed-loop intelligence and paid media execution on social.
Promoting content with paid media is critical for testing creative against target audiences and achieving marketing objectives. By completing the data feedback loop between advertisers and their audiences, Percolate and SocialCode clients will gain creative and consumer insights that lead to superior marketing performance.
Marketers also benefit from a more efficient social marketing workflow, where an estimated 30% of campaigns underperform due to collaboration delays between creative and media teams. These groups will now work within a shared platform that enables unified metrics, better cooperation, mobile workflows and richer feedback on content effectiveness and attribution.
The partnership creates a marketing system of record that marries all digital marketing within one process, based on the insight that faster feedback and closer coordination between brands and their creative and media agencies is essential for success in a mobile-social world.
WPP invested in Percolate because the future of digital is about marketing in real-time to the billions of people now connected by social media, said Mark Read, CEO of WPP Digital. With this new partnership, Percolate is closing the loop to offer the most comprehensive technology on the market. We are more excited than ever for our creative and media agencies to work with Percolate for the world's leading marketers.
"Percolate and SocialCode are two of our favorite social technology partners," said Gary Vaynerchuk, CEO and co-founder of VaynerMedia. "We built our marketing agency with the philosophy that creative, media distribution and analytics should be connected. Their new partnership will help our teams amplify that vision."
Together, Percolate and SocialCode already serve more than a third of Fortune 100 companies, along with hundreds of Fortune 500 brands. This latest product integration will provide Percolates customers with the ability to quickly plan and launch optimized ad campaigns across Facebook and Twitter through SocialCodes AdVisor platform, while gaining predictive content analytics through MessageOptics technology.
SocialCode is one of only a few Facebook Strategic Preferred Marketing Developers, and recognized as the industry leader for optimizing creative testing, targeting, and bidding to achieve brand objectives, said Noah Brier, CEO of Percolate. Their technology stack will bring Percolate customers new levels of performance and intelligence when it comes to distributing marketing in the smartest, most nimble way.
Were solving a huge challenge for the worlds largest marketers: closing the intelligence loop with cross-device ID-based advertising, content analytics and content creation, said Laura OShaughnessy, co-founder and CEO of SocialCode. The resulting suite of tools — from planning to governance to sourcing to paid distribution — will result in a continuous cycle of better creative, insights and overall marketing performance.
SocialCodes customers will now have access to the Percolate platform for real-time planning, asset sourcing, content creation and brand management, a full suite of mobile apps, and the ability to distribute to channels that include Facebook, Twitter, LinkedIn, Pinterest, Instagram, Google+, Tumblr, Sina Weibo, WordPress, Drupal, CRM systems, email marketing systems and a select number of enterprise CMS providers.
About Percolate
Percolate is the system of record for marketing. Our end-to-end web and mobile software helps marketing teams save time, grow brand recognition and generate more sales. From brand governance, planning, content sourcing and creation to audience acquisition, moderation and analytics, Percolate connects and automates key marketing tasks to help leading brands create and distribute content that wins customers. Visit http://www.percolate.com
Percolate contact: Graydon Gordian, graydon(at)percolate(dot)com +1 (512) 771-6388
About SocialCode
SocialCode builds marketing technology and solutions that make the worlds most valuable brands successful using social platforms. Over 30 Fortune 100 firms and hundreds of leaders in every major category, including their agencies, rely on SocialCode to lead their social advertising, improve messaging and media strategy, and become better marketers. SocialCode capitalizes on advertising experts, advanced technologies and machine-learning that activate brands and turn people into customers and advocates. SocialCode is a pioneer in predictive analytics, and has been awarded the elite distinction of being both a Facebook Strategic Preferred Marketing Developer (sPMD) and Twitter Marketing Platform Partner, while also developing solutions for Instagram. SocialCode is a subsidiary of Graham Holdings Company. Visit http://www.socialcode.com
SocialCode contact: Max Kalehoff, max(at)socialcode(dot)com, +1 (646) 489-4629
Find More WordPress Press Releases