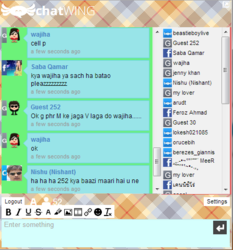 New York, NY (PRWEB) June 22, 2013
Customization is now the focus of Chatwing.com as its development team launched a plethora of new background images. A background image, per se, can be used to set the overall appearance of a Chatwing chat app. These new background images will be available for bloggers, especially in the WordPress community.
For starters, setting up the background image is easy. Newly-registered users can go to the account dashboard. From there, they can select from Chatwings collection of background images. These were contributed by different web users who have knowledge in CSS integration and design.
The aesthetics of the images were also carefully redone to fit modern marketing standards. Online marketers can rely on the background images to create a chatroom that will soothe the visitors eyes. Choosing a background image is quicker than actually creating color combinations. Chatwings other editing functions remain the same, although the navigation style was changed for easier access.
The Chatwing chatbox team, dedicated for all users high satisfaction, will continue to make more background image selections. The team also intends to create highly-detailed background images for those who want to avail Chatwing chat software. Clients who want to know more about Chatwings functions and customization scope can visit the chatrooms official Facebook page. The Chatwing Twitter account is also loaded with updates every now and then.
About Chatwing.com
Chatwing.com specializes in the new field of website chat. Over years, the Chatwing team has introduced live chat widget for hundreds and thousands of blogs. The Chatwing application bridges people from many parts of the world, creating global synergy through the Internet. The shout box can be installed in just seconds, and it can be used for varying purposes such as leisure and Internet marketing. It also allows a user to customize the size, color, and name of the widget.