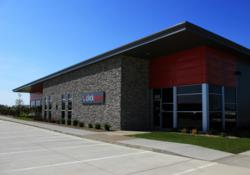 Urbana, IA (PRWEB) April 17, 2013
Clickstop, an e-commerce business and parent company of USCargoControl.com has expanded its business capabilities by adding 15 jobs and equipment to launch a new team dedicated to the sewing and assembly of tie-down related products on site.
Clickstop was founded in 2005 when CEO Tim Guenther launched the USCargoControl.com website, selling a line of ratchet straps for the cargo control industry. Over the next eight years, the business added thousands of more items to the website, but tie down straps have remained a leading category for the brand.
In 2012, Guenther saw an opportunity to build assemblies like ratchet straps and cam straps for the US Cargo Control brand rather than outsourcing the products from China. By the end of the year, a new warehouse addition was completed and sewing machines and other equipment were purchased. The new department has been operating since February of this year and is scaling to take on a large amount of additional volume.
Guenther says this expansion has been a methodical one to ensure product and safety standards were met each step of the way. He also says the benefits have been worth the wait.
Adding these capabilities allows us to control quality in house, provide a broader selection to our customers, and bring new products to market quicker, said Guenther. Weve enjoyed the challenge related to establishing this new department, and were happy to bring jobs back to Iowa.
The company currently employs seven on its manufacturing team and is looking to hire another eight employees part-time to expand the area even further. The total number of employees at Clickstop is now just over 60, with staff managing everything from product sourcing and website development to phone sales and shipping. Guenther anticipates the company adding another 15 employees to other departments by the end of the second quarter as well.
Its been very rewarding to see the team grow as they tackle this challenge, said Guenther. These new capabilities are part of what is propelling the growth of the US Cargo Control brand; were excited to see what the future holds.
###
About Clickstop
Clickstop is the parent company of a suite of eleven online retail stores based in Urbana, Iowa. Focused on offering relevant products, timely delivery, and excellent customer service, Clickstops websites utilize search engine optimization to attract a diverse range of markets, including the moving and cargo control industry, energy efficient insulation products, home organizing solutions, and fashion jewelry. To learn more, visit Clickstop.com.