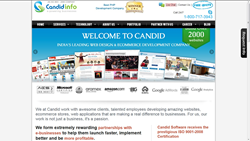 India (PRWEB) January 06, 2015
Candidinfo stands tall as a multi-expertise company offering feasible, effective and reasonably priced WordPress development services. Their services also comprise web designing, development, search engine optimization and web hosting solutions to clients scattered all across the globe. The web development solutions provider endeavors to empower e-businesses and enable them to achieve their growth targets. Initiating its operations with just 5 employees in 1999, Candidinfo has grown into a trustworthy business establishments with a commanding global presence.
With intent to offer some insight into the WordPress website development services on offer, an executive at Candidinfo revealed in a recent interview, Combining the ease of WordPress with our experience and expertise is bound to deliver exceptional results. We stand proud as one of the most experienced and trustworthy WordPress development company. We have the talent to modify, customize and develop this amazing platform to meet the requirements of our clients in the best possible manner. We have the distinction of using WordPress CMS solutions to create blogs and corporate sites to e-commerce sites.
As far as WordPress website design is concerned, Candidinfo offers a wide portfolio of services that may include but not limited to WordPress theme design, template design, blog design and PSD to WordPress. It also has the wherewithal to deliver comprehensive and robust WordPress development services including WordPress installation & implementation, website development, blog development and CMS development. Apart from this, the web development service provider can deliver best in class WordPress maintenance solutions including WordPress technical support, load review, troubleshooting and up gradation.
Shedding some insight into the website maintenance services on offer, the executive further stated, We reckon that maintenance of the website is as crucial as designing. Thereby, we offer comprehensive and effective maintenance solutions to keep the clients business up and running. Our superior yet cost effective maintenance plans spare the client from losing precious time and paying exorbitant fees for urgent changes. We have a maintenance plan ready for all sorts of websites and budgets. Whether the client require daily updates or need to make changes once in a month, we can deliver plans to meet his specifications.
The robust maintenance plans on offer at Candidinfo enable the client to add, edit and delete content, images and photos on the website with consummate ease. One can also add new pages and remove the unwanted ones in no time. As far as e-commerce sites are concerned, the web development solution provider can not only add a new product and remove the undesirable ones but also update the packages and product prices and hence enhance their credibility. In addition to this, it can also enact code changes. Owing to the stated reasons, one can safely say that Candidinfo is the best yet most affordable WordPress website design company in India.
About Candidinfo:
Established in 1999, the Noida based, Candidinfo has emerged as a name synonymous with superior yet cost effective ecommerce solutions. The web development solution provider offers an array of quality services that include web designing, development, search engine optimization and web hosting solutions to clients based in India and abroad. Companies planning to outsource SEO projects to India can trust them. The above stated reasons make Candidinfo the most sought after and coveted WordPress company development company in India. They are also regarded among the leading joomla developers in India.
Contact Information:
Candidinfo
India
A-82, Sector – 4,
Noida, Pin Code: 201301
Phone: +91-9953139234
USA
244 5th Avenue,
Suite N-283
New York,
N.Y. 10001
Phone – 1-800-717-3943
Email: sales@candidinfo.com, info@candidinfo.com
Web: http://www.candidinfo.com/
# # #